The
Times November 11, 2006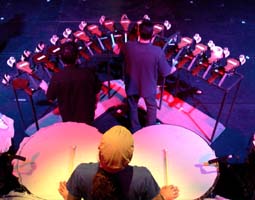 Dancing a
hosepipe
Traffic-cone tunes? Jeremy Austin on what happens when Stomp gets
musical
Lost and Found Orchestra co-creator Luke Cresswell is
trying to explain the best way of turning a length of hosepipe into an
orchestral instrument.
"If you get a tube and a mouthpiece from a trumpet we
knew that you could make a tone like a bugle by making it different lengths," he
says, looking enthusiastically at orchestra co-founder Steve McNicholas as they
sit in the Brighton offices of their Yes/No Production company.
"That's exactly what
people did before they invented the trumpet," he adds.
W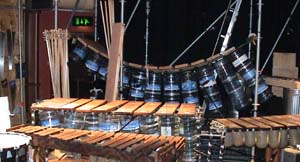 ell, not exactly. Not with
hosepipe. But when you have created an entire orchestra out of, well, junk,
hyperbole is allowed.
The Lost and Found
Orchestra is about to make its second ever appearance. After being put together
to celebrate the 40th anniversary of the Brighton Festival in May last year, it
has been invited to Sydney for a concert at the iconic Sydney Opera House.

A stage that has
been graced by the world's finest orchestras and soloists is going to host a
bunch of actors, performers and musicians banging lumps of wood, blowing down
hosepipes and playing road traffic cones. Surely it's what arts festivals should
be about.
Says Cresswell: "I
think the sort of place that could cope with that is Sydney because they were
brave enough to take it on. And it's got the venue and it's a really well-run
festival that is world-renowned."
It was certainly
the right place for Cresswell and McNicholas when they launched their first
theatrical collaboration, the global hit show Stomp.
Some 16 years ago
the pair were disaffected musicians desperate to get out of a recording contract
that was failing to allow them to recor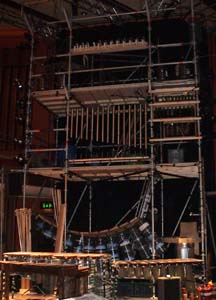 d. Then they spotted a loophole in the record deal. They
could make music as long as there was no melody by concentrating solely on the
rhythm.
After a brief
period of experimentation, the first incarnation of the percussion show Stomp
made its tentative tappity-taps on to the stage at the Zap Club in Brighton.
That was in 1990 and it lasted half an hour.
Two years later,
after appearances at the Edinburgh Festival Fringe and in London, they took a
fully rounded show to Sydney and it went down a storm.
"We went to the
Sydney Festival in 1992 and that was our first paying gig," recalls McNicholas.
"We did a tour in Australia and that was when we realised the show was going to
work. Up until then we thought it was something that all the performers liked
but the punters hadn't really clued into."
This year Stomp
celebrates five years in the West End. There is a show on Broadway and
negotiations are underway for a new, longer version at the soon-to-open Planet
Hollywood in Las Vegas. It is a phenomenon, one that has dominated their
creative lives. New casts for its various worldwide incarnations are continually
being assembled and trained, sets and props being maintained, and new off-shoot
projects created. This means that the pair have not been able to concentrate on
a follow-up theatrical show.
The LFO is sort of
that. But then again — true to its defiantly eccentric nature — it also isn't.

"It's still visual
but it's more like a concert that's strayed into theatre. It's a hybrid,"
explains McNicholas. "There's a lot of Stomp elements in it."
But, Cresswell
adds, the size of the orchestra and the complexity of the instruments means that
it will never travel like Stomp.
"There's too many
people and the amount of stuff to ship to Sydney — but we didn't design it for
that. We designed it for the Brighton Festival. It's great that it's playing at
Sydney and it would be great if it would play the Met in New York but it would
be a one-off," he explains.
McNicholas
interjects: "It was fun watching all the Stomp producers coming over from
America to see the set and all just glazing over because they realised it's not
another Stomp."
And that, says
Cresswell, added something that the commercial success of Stomp had
overshadowed: the enjoyment of creating something just for fun.
"It was great fun
to do," he says. "It was back to the original idea of doing it for the craic of
doing it. We get paid to do it, but you're not doing it for the Mercedes car. It
was what Stomp was about. Still is in my head."
For the creation of
LFO, Cresswell and McNicholas became mad scientists and beachcombers. If it
could be blown, banged or sucked, it found a place in their unconventional
orchestra.
As well as the
hosepipe bugles, strings are replaced by bowed saws, brass becomes bellows and
bottles and the timpani are fashioned from industrial kitchen cauldrons. These
are all played by 45 performers, many of whom were found through one of Stomp's
global productions. McNicholas and Cresswell have written 12 pieces of music
with influences ranging from jazz to Carl Orff.
"On one hand it is
quite stupid; you think why don't you just use violins if you want it to sound
like that?" says Cresswell. "But when you hear saws played with a load of little
bellows on little bottles, you actually hear a sound that no one's ever heard
before. You suddenly go 'wow'. It is very emotional."